Using the most up to date and effective treatments for bed bugs gives you a better outcome. The bed bug treatments used by professional pest controllers are an excellent way to efficiently get rid of bed bugs.
The best bed bug treatments include the following options:
Hot water treatments.
Anti-allergy vacuuming treatments.
Mattress sealing.
Specialist sprays and powders.
The type of treatment that works best will depend on the situation, which the following factors will influence:
The scale of the problem, a large bed bug infestation requires more extensive treatment.
The presence of bed bugs in cracks and crevices, box springs, bed frames or electrical outlets.
Any existing bed bug control measures, if bed bugs bite it is a sign that preventative strategies are not working.
The bed bug treatments that we use as professional pest controllers include the latest and most effective options. There are a variety of home treatments and commercial treatments that we have experience in providing, which makes us an ideal source of information on the best available options.
We provide bed bug treatments in many places across the Midlands region of the UK. For a professional solution in this region please feel free to get in touch today.
The Most Effective Bed Bug Treatments and Costs
When it comes to bed bug treatments the most effective option will depend on the unique nature of the situation.
There are some home remedies for bed bugs, including specialist bed bug sprays, which can help with prevention and are useful for small-scale problems. Home treatments are generally less effective than professional solutions.
To understand the best treatment we need to understand a little bit more about the nature of bed bugs. Bed bugs, which come from the 'cimex' genus of insects have the following characteristics: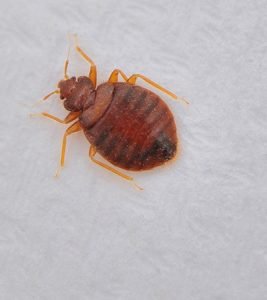 High survivability: Bed bugs are born survivors. The insects can thrive in even the coldest conditions, including freezing weather. They can also survive fumigation with carbon dioxide, so they are very challenging pests to control. The survivability of bed bugs is evident in the way they can quickly come back if you carry out an ineffective treatment.
Low food requirements: Unlike other pests, such as rats or mice, bed bugs do not need a food source for a very long time. Bed bugs can live for up to 70 days without feeding, so they can remain dormant in fabrics and other areas where they live and lay their eggs. With an adequate food source, they are likely to spread a lot quicker as they can grow extremely fast.
Bed bugs are parasitic and will maintain their populations with very little help, they congregate in high-density areas and will thrive in small flats. As a result, they often need specialist treatments to effectively get rid of them.
The following are the most effective bed bug treatments:
Hot water treatments: When dealing with bed bugs heat treatments work very effectively, and using hot water prevents any possibility of bed bugs and dust. Using hot water washes will allow all bedding and other fabrics to be free of any small particles of dust and a hot dry cycle will kill all bed bugs.
Vacuuming treatments: Special filters and professional powerful vacuums are an excellent way to get bed bugs out of beds and mattresses. Beds can be tricky as they often have padded headboards, bed boxes and other areas where bed bugs can hide – taking apart and vacuuming is the most effective option in this case.
Mattress sealing: Overall, the most effective method of treatment is prevention. Mattress seals using specialist anti-allergenic covers will seal a mattress completely, which helps to reduce the chances of bed bugs as well as reducing any risks from other allergies and conditions such as asthma.
These are the most effective bed bug treatments that are in use by professionals, which means they are suitable for a range of commercial and domestic settings. These solutions are scalable, meaning they can be useful in any area – from a single second-hand chair to the beds of an entire hotel.
How Much Does Bed Bug Treatment Cost?
The price you can expect to pay for a bed bug treatment will vary substantially. Large-scale commercial bed bug infestations can be difficult to price, but as a general rule the bigger the problem is the higher the overall costs will be.
However, water treatments can take time to complete and the mattress vacuuming process involves the use of special equipment. As a result, these types of treatments can be more expensive to complete – depending on the scale of the problem.
Mattress sealing is quite economical but costs will exponentially increase if you have a large number of mattresses.
What Are the Most Effective Home Treatments?
If you would like to try home treatments, tea tree oil can be one of the most effective solutions to small scale problems. Other essential oils you can try include peppermint oil, cinnamon oil and clove oil. Further basic home treatments such as sprays may also help low-level problems before they get out of hand.
A popular home remedy for mattresses is to use baking soda. The belief is that putting baking soda powder on the surface of a mattress will help absorb fluids and dry out the shell of the bed bugs – thereby killing them. While it might help, and it may be harmless to try, there is no scientific evidence that baking soda kills bed bugs.
Can I Prevent Bed Bugs?
Bed bugs can be present on any piece of fabric, so it might not be possible to prevent them in all cases.
Any piece of luggage, a cloth slipper, hat or other fabric is susceptible to bed bugs as it provides ideal conditions for them to feed and lay eggs – as a result, prevention is best achieved by practising constant vigilance.
To prevent bed bugs you can introduce the following strategies, most of these are good practices for general hygiene and can help prevent other pest problems too:
Frequently washing bedding, clothes and other fabrics.
Washing bedding at very high temperatures.
Frequently vacuuming floors, especially carpets.
Reducing or removing carpets in a house, bed bugs hate tiles and wooden floors.
Avoiding second-hand furniture or thoroughly checking and cleaning any second-hand items.
Sometimes you will bring bed bugs home with you. This is a horrible thought, but a bed bug can easily crawl onto your suitcase or clothing. You can help reduce the chances of this by doing the following:
Check hotel rooms and mattresses before you use them.
Hanging up clothes and avoiding dropping clothing on the floor, in a hotel you can leave all your clothes in your suitcase.
Putting suitcases on a raised platform, such as a shelf or suitcase stand.
You cannot avoid all contact with bed bugs as they are so common, but you can prevent them from spreading and becoming an issue. If you often experience skin reactions from bed bug bites these preventative measures will help a lot.
The Best Bed Bug Treatments Explained
If you have a significant problem then a professional solution is the only option. Professional solutions involve the use of heat treatments, vacuum treatments and mattress sealing, which will be the most effective options for most cases. The costs of treatments depend on the scale and nature of the infestation.
Home treatments can help, but basic sprays and powders do not work as well for larger bed bug problems. We are happy to explain the most effective treatments for bed bugs, which we use in our role as pest controllers in the Midlands region of the UK. For a professional bed bug treatment service in this area please get in touch.