What We Offer for a Monthly Pest Control Service
It is possible that, even after a pest control procedure has been carried out, you will still need regular services to prevent pests from returning. You may not always require a monthly pest control service, but here at Safeguard, we can provide you with a contract to ensure your business is sufficiently covered for any type of pest you could have invaded your property. This will usually be scheduled at separate monthly intervals, either 4, 6 or 8 times per year.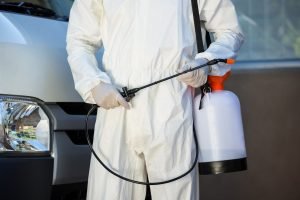 Our work will be tailored to suit your needs, including by providing you with specialist tools and equipment for bird proofing if this is necessary. Get in touch with us today and we can start discussing setting out a contract with you, before we begin our work protecting your property.
What is Provided by Our Monthly Pest Control Service
Our monthly pest control service, as split over the course of the year, can cover a range of control methods for common and household pests. We'll be able to offer you solutions no matter if your building has constant problems with rats and mice, needs a wasp nest removed from a wall or doorway, or could use measures in place to prevent birds from nesting on the roof.
Our service contracts cover:
To learn more about the methods we use for each of these pest control services, please get in touch with us today.
As a professional pest control company, we completely understand that you will want to keep our services as discreet as possible. We are more than capable of ensuring this when carrying out work for you, just as we have for the following clients in the public and private sector:
Industrial sites
Hotels
Schools and colleges
Hospitals
The Advantages of Regular Pest Control
There are many benefits to be found with regular pest control, rather than utilising a "one off" service that keeps your property clean but may not always prevent pests from returning:
It prevents damage to your property, both inside and out
It prevents risks to health and safety, to you, your workers and any customers, clients or guests to your firm
It prevents a fall in public perception, especially if your property specialises in food preparation or hospitality
It ensures you're meeting all laws and regulations regarding pest control and food hygiene standards in the UK
It becomes a more cost-effective service to have smaller treatments carried out regularly
It ensures the work is professionally performed, and not carried out by someone who is inexperienced
It guarantees you peace of mind for your business, so you won't have to worry about pests invading your property in the future
Monthly Pest Control Services and Corporate Social Responsibility
In the monthly intervals we'll set out for our contract, you will find that we take every measure to ensure full corporate social responsibility. This also means making sure every procedure we carry out has a minimal impact on the environment surrounding your business.
The guidelines we've developed for our contracts cover:
Health and safety
Humane pest control
Environmental pest control methods
Client relations policies
Every member of staff we employ has been fully trained and will be fully dedicated to ensuring these guidelines and principles are met and followed on a daily basis. When you create a contract with our firm, we will also work closely with you to ensure that our services remain aligned with the aims and expectations you have of us.
We use a carefully selected range of products and develop our procedures to ensure that no adverse health effects are caused by our work. In turn, this ensures that your property is offered maximum impact for any pests found, whilst keeping any impact on you, your workers or guests, your environment and any public sector operations to a minimum.
Our Cost-Effective Services
We understand the importance of keeping your revenue wherever possible, especially after it's been discovered that you have pests on your property. This is why our regular contracts, carried out as many times as you should need across the year, are all designed to keep our pest control prices as cost-effective for you.
By protecting your property from vermin, we will be helping you to save money that would have otherwise been spent repairing damage to your property, as well as on money that would have been lost through staff illness or a fall in your public perception and reputation.
Your regularly performed contract can be fully tailored to suit your budget as well as your property's needs, and you can be certain it will exceed industry regulations such as HACCP.
Our Guarantee
The regular contracts we provide all note that we'll take care of any pest species specified when the agreement was arranged. As such, you can rest assured that we'll remove any invasive vermin you have previously found on your property. Our contract of regular care and pest control for your building also ensures that these species are kept out for good. You can then return to your daily life and business, securing your health, preventing damage to your property and maintaining your reputation with the public.
If your pest problem has become an emergency and you know it will need attention as soon as possible, we can also offer you an on-call rapid-response team. They're available 24 hours a day, 7 days a week, and can arrive at your location in a matter of hours to ensure the problem is taken care of. We aim to visit all clients within 24 hours of their call, so you will not have to wait long for a professional service to carry out the pest removal services you need.
Our Guarantee
As part of our service agreement with your business, we can ensure that all pests specified in your contract are eliminated and removed from your premises. This means you can feel reassured, as we'll take care of any problem vermin that may have contaminated food or potentially caused a health hazard to the public or your employees.
We can also guarantee assistance for your kitchen within 24 hours, if you choose to use our rapid-response emergency pest control services. Our emergency team is on-call 24 hours a day, 7 days a week, so your infestation will always be taken care of in a timely manner. Once your space is clear and has been thoroughly cleaned, you'll be able to return to your usual order of business.
For Monthly Pest Control Services or Regular Advice and Help
To learn more about the pest control services we will regularly carry out for your property, please get in touch via telephone. Alternatively, if you'd like to make a detailed report of your own pest infestation before contacting us, you can also send this to us by email.
One of our expert team members will be able to read this through and come back to you as soon as possible, with a solution for your pest problem and a quote that is suitable for the work we'll do.